Windows 7 / Server 2008 End of Life

On January 14th, 2020 Windows 7 and Windows Server 2008 will no longer be HIPAA Compliant
Microsoft has announced that on January 14th, 2020 Windows 7 and Windows Server 2008 (Server 2008R2) will reach their EOL (End of Life) Product Life-cycle; meaning Microsoft will no longer provide routine security updates making these systems considerably more vulnerable to cyber attacks and therefore no longer HIPAA compliant.  Even the presence of a single non-compliant device (computer, router, switch, etc.) can deem your entire site to be non-compliant so this should be taken seriously to avoid potential data loss and / or fines.
With just months remaining, there are several significant advantages to proactively addressing this issue, which are:
to take advantage of Microsoft's unpublished, free and legal Windows 10 upgrade site which may only be available for a limited time, and
to take advantage of special pricing and financing programs we have put in place to help specifically to address this issue, and
to avoid increased costs and stress associated with arranging installation / compliance at the last minute to meet these deadlines.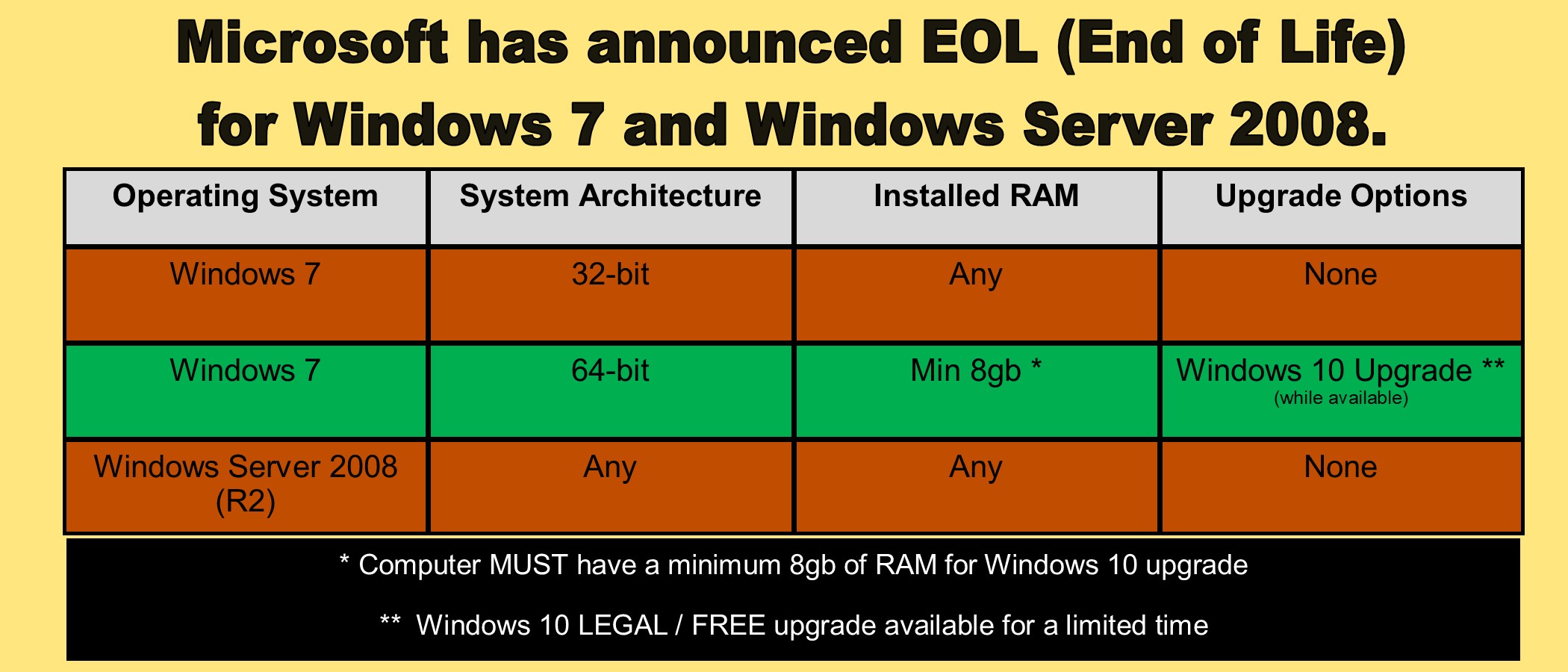 OPTIONS:
Windows 7 32-bit operating systems:
While Microsoft does offer a Windows 10 32-bit upgrade we have decided to not include these upgrades because of the limits of the operating architecture and the likely age of these systems we find that there is no value in keeping these systems in service.  If you have Windows 7 32-bit operating system computers in your practice you should consider replacement.
Windows 7 64-bit operating systems:
For contract clients we can perform these upgrades for $150 per system (plus tax and any required hardware upgrades).
For non-contract customer we can offer these upgrades (time permitting) for $275 per system (plus tax and any required hardware upgrades).
Windows Server 2008 / Server 2008 R2:
There are no upgrade options available for either Windows Server 2008 or Windows Server 2008 R2 operating systems.  If you have either server installed we are recommending you create a plan immediately to avoid downtime and / or data loss.  We estimate that a typical private practice server installation requires approx 15 – 20 hours beginning the evening before the installation to initiate the data transfer.  The day of the installation all systems will be off-line unless other provisions have been made in advance.  Lastly, there may be application compatibility issues that need to be addressed before a server installation can be scheduled.  We have assembled a few configurations ideal for most private practices with special financing terms that can benefit your business.